5 Important Things to Do Before You Go to Bed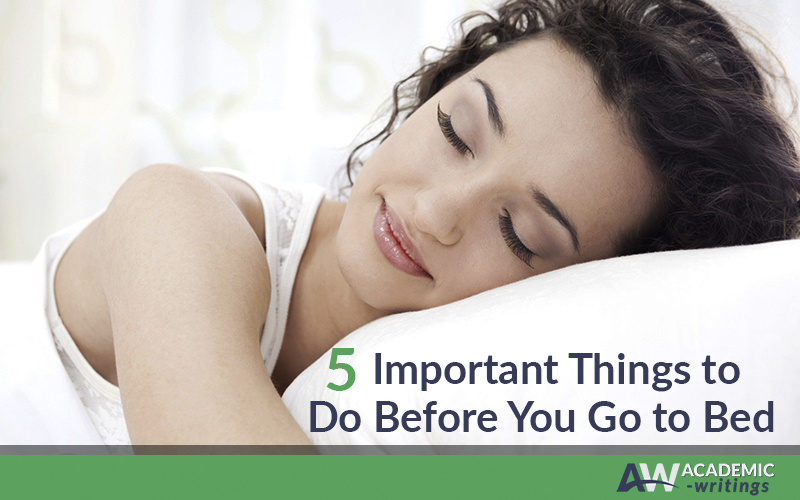 Nowadays, many people are enthusiastic about finishing their days the same way as their role models do. When we repeat some habits of successful people, it makes us believe that we become closer to our own goals and happiness. In addition, it is necessary to realize that the bedtime routine predetermines how successful the future day will be. Repeat these evening rituals before you go to bed, develop good habits, and find your own way to prosperity.
5 habits of highly effective people

Go for a walk
A short walk before sleep contributes to your well-being. It will help you to overcome stress and distract from unpleasant thoughts. Devote some time to yourself, think about your interests and enjoy the silence while wandering around the evening city.
Evaluate your day
This practice was promoted by Benjamin Franklin who used to spend some time in the evening accessing his achievements. As a result, the American President analyzed whether his efforts were effective and what needed to be improved. If you have a goal to pursue, this strategy will help you to track your progress.
Read a book
Reading motivates a person to constant improvement. In addition, the person who develops a habit of reading before sleep educates himself/herself on a regular basis. Also, reading helps your brain to have rest and you will fall asleep faster.
Use positive affirmations
This bedtime routine of making promises to yourself and using positive affirmations will encourage you to progress quickly. Your brain is more responsive before you go to bed, so use this time to give yourself correct commands.
Meditate
Many people think that meditation is a morning ritual; however, there is nothing wrong in repeating it twice a day. So, sit or stand comfortably and let your thoughts flow freely. Do not focus on any of them, just empty your mind and try to relax.
It is essential to develop good habits that will contribute to your well-being. Make your mornings brighter by having the bedtime routine that tunes you on starting a perfect day.