Academic Writing Style Guide
A guidebook on styles, also known as a style manual, is a directory with a synthesized set of standards and rules for academic writing and document design. As a rule, the manuals are used either for general or specific purposes as well as in various organizations or areas. The biggest advantage of a single manual on styles is the uniformity and general acceptance of rules. With the help of a single guidebook, documents within a specific field are formatted in the same way.
When it comes to the set of rules for a certain field or organization, these rules are referred to as the "house style." Such manuals are widespread for specific and general purposes, for different target audiences, as well as for scholars and students of a specific educational institution and certain disciplines, such as law, medicine, technology, business, biology, government studies, social studies, and so on.
Specifics of Academic Writing

Introduction

In English, the main principle of academic writing is its linearity, wherein a piece of writing is united by a focal point or a specific theme where each of the constituents contributes to the general layout of the main claim. The core purpose of such writing is to inform instead of entertain. What is more, the principles of academic written communication also comprise the core principles of the English language as such. Among the central features of academic writing are the following: formality, organization, complexity, explicitness, responsibility, objectivity, precision, hedging, accuracy, and planning.
Formality

English academic writing is comparatively formal. In other words, one should avoid colloquialisms, slang, and other informal language in writing.
Organization

Academic writing should be properly organized. If a piece of writing comprises of a few sections or paragraphs, these constituent units should be logically connected. Besides, the ideas expressed should be coherent and smooth. Organization is dependent on the genre of writing.
Complexity

Written English is more difficult and complex than oral English. In particular, the former has more difficult and complicated constructions, more complex lexical units, and it is more complex in terms of grammar, spelling, and punctuation.
Explicitness

Written English is explicit in terms of relationships within the text. Particularly, a writer bears full responsibility regarding the clarity of the message conveyed in the written text. Moreover, the writer should pinpoint to the logical parts and connections within the text.
Responsibility

The writer is held responsible for what he/ she writes. In case of argumentative papers, the writer should ensure clarity of paragraph organization as well as provision of sufficient evidence and examples. In case some parts of the text are taken from outside sources, the in-text citations should be provided as well.
Objectivity

Written English is more objective rather than subjective in nature. As such, one should use fewer words and expressions that denote the writer's personality or the target reader. The core focus should be shifted to the idea you intend to convey not your personal opinions.
Precision

In case you need to provide statistic, calculations, whatsoever, remember that facts and numbers should be provided precisely (as in the original document).
Hedging

In any type of formal English writing, it is essential to take decisions regarding your standpoint on the given topic as well as the strengths of arguments you put forward. One of such techniques is "hedge."
Accuracy

The vocabulary you utilize should be used as accurately as possible. Since many words have nuances and shades of meaning, it is important to use proper forms and shades of words. Always double-check words, particularly their spelling and meaning, in specific dictionaries.
Planning

Academic writing should be properly planned in order to be successful and effective. Before researching and analyzing the topic, a writer needs to properly plan out the whole process of writing.
General Tips for Academic Writing

This style manual identifies the major strategies that freshers might find handy for their academic writing process. These techniques will make sure that the writing they submit during classes fits the target academic audience and eradicates confusion or misunderstanding for readers due to precision in academic writing style. Also keep in mind that these are general tips, not some precise guidelines that each writer should adhere to. Abiding to some general writing principles can improve students' writing to a great extent:
Eliminate the usage of colloquialisms. If there are no specific indications that you are free to use any writing style and use slang or informal language (for example, to ensure a specific tone of writing), make sure to follow the principles of formal writing.
Do not contract words. Write only full version of words and phrases in formal writing ("had better" instead of "d better", etc.)
Use passive voice wisely and avoid it where possible. Active voice adds up to the quality of writing, so prefer active voice to passive.
Eliminate the usage of split infinitives as, according to specific academic writing norms, it violates grammar rules. Even though it is more common to say in everyday language "to slowly go," the preferred form of usage is to "go slowly."
Use the first-person pronouns moderately. In case you use the first-person pronouns, double-check whether they can be omitted and whether they are needed there at all (if you were not asked to provide personal opinion in text, why do so?).
Do not end sentences with prepositions. There are no specific grammar rules of historical reasons for ending a sentence with a preposition.
Provide page numbers at the headers so your target audience can easily navigate through the piece of writing. Besides, page numbers help your professors or the admission committee directly identify whether you have managed to provide the required paper length.
Make sure you come up with a good title that best reflects the core idea of your writing.
Utilize the citation style required by your academic institution or your professor when formatting in-text citations and bibliography.
Make sure you carefully edit and proofread the text before submitting it. It is important to correct some vivid mistakes, text flaws, and typos as they may pose a negative influence on the overall perception of the text and its further grading.
Carve out ample time for revising the paper as it is a central point of the writing process.
Read aloud what you have written and check how the text sounds. This technique will help you spot awkward-sounding words and phrases (or even notice some missing parts).
Make sure the overall writing style is impersonal. If you provide personal opinions, do it either in opinion-based essays or when you support the opinions with facts and evidence.
Organize your writing into paragraphs, sections or other logical units. Each of the paragraphs/ sections should be united by a common idea.
When you refer to others' opinions, words or statements, make sure to indicate this. Never use someone else's words as your own stance. Always citing information taken from the outside sources will help you avoid plagiarism in text.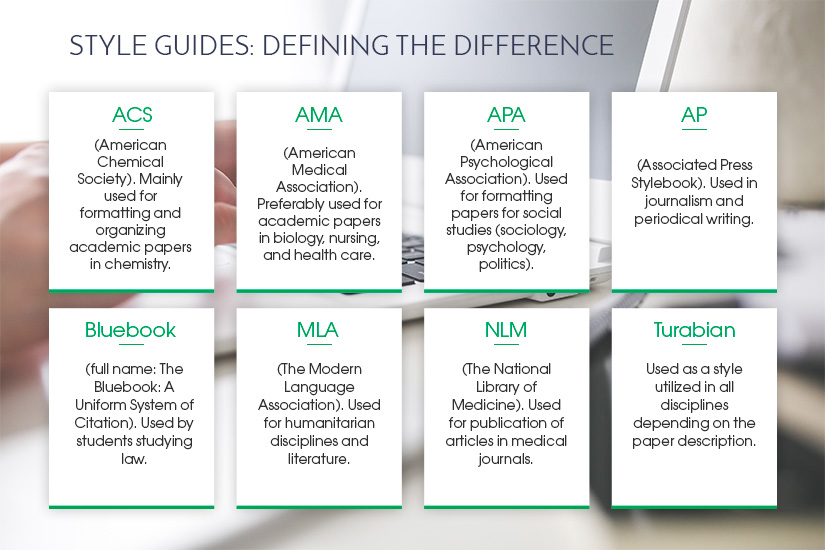 How to Properly Choose Your Style Guide

Do not panic when you need to choose a specific guide for formatting your papers. Think of what discipline you need to provide a paper in and then format the paper accordingly. The guide and formatting principles formatting above will definitely help you submit quality paperwork.