Interesting Facts about Groundhog Day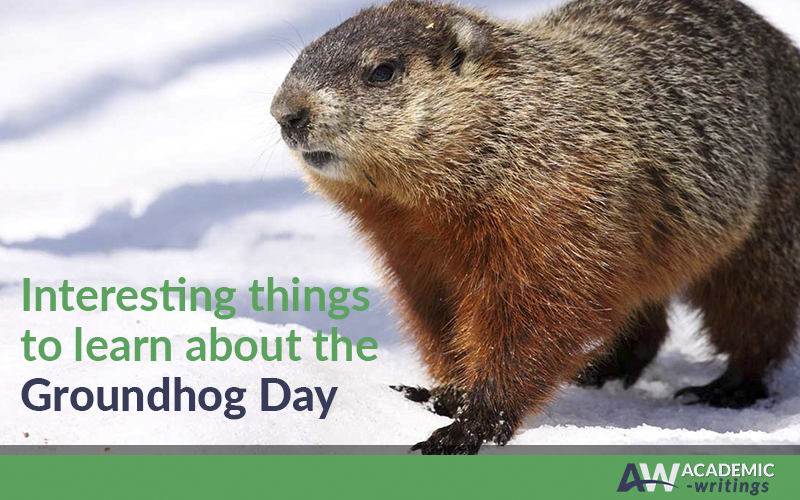 Groundhog Day was celebrated for the first time on the 2nd of February 1886 in Punxsutawney, Pennsylvania. However, the legend of the groundhog's predicting prowess appeared in 1887. A company of followers visited Gobbler's Knob to tell people that the groundhog had a special power to determine when the winter was going to end.
If this rodent comes out of its cave and immediately scampers back and does not spot its shadow, winter will end soon. However, if the rodent spots the shadow, there is a big probability that the cold and snowy weather will go on for several weeks.
However, there are some things that you probably did not even hear about this day.
It Came from German Tradition

There is a Germanic tradition according to which people rely on the gestures of badgers or hedgehogs to make forecasts concerning the upcoming weather on Candlemas Day. Since these animals are not very common in the East of U.S., American people transferred this tradition using groundhogs.
People Celebrate It In Canada, as well

In some areas of Canada, people celebrate Groundhog Day, too. Here, it is common to celebrate it with an albino rodent. People call it Wiarton Willie in Canada and Shubenacadie Sam in Nova Scotia. By the way, Shubenacadie Sam is supposed to be the first one to give his forecast as he is located farthest to the east.
Alaska Does Not Participate

In Alaska, people celebrate the Marmot Day on the 2nd of February. The politicians of Alaska made a decision that since marmots were not common in those places, it would be better to respect animals that do populate Alaska. Sure, marmots do not have any special powers, but it is planned to teach kids about the rodent on the new holiday.
Groundhogs Have a Short Life

The groundhogs have a lifespan of just about 2-3 years. However, there are some marmots that live 6-8 years. Still, this fact does not stop local people from being sure that their Phil is an established centenarian who can live forever.
A Great Interest in this Day Appeared due to the Movie "Groundhog Day"

The movie "Groundhog Day" brought Americans not just to the theaters. After it came out, the attendance of this annual holiday increased by five times! The amount depends on exactly how many people come to the fest, but about 20 thousand people are following it online.
Not Everybody Loves Groundhog Day

During the last few years, PETA pressures organizers to stop celebrating this day, calling it inhumane. PETA offers to replace this animal with an electronic version. They say that Phil is forced to be displayed the whole year round and has no opportunity to enter yearly hibernation.